A web-based software, Emsigner allows you to sign legal documents online. It is faster and more secure than paper forms. Essential Emsigner is an online tool to sing GST Registration forms digitally. Also, you can Download Emsigner for filling GST Returns. You need to register DSC on GST Portal before you install Emsigner. The online signature software functions to server's multi-party signature, sequential signing and online document storage. Emsigner cut downs the hitches in maintaining physical documents.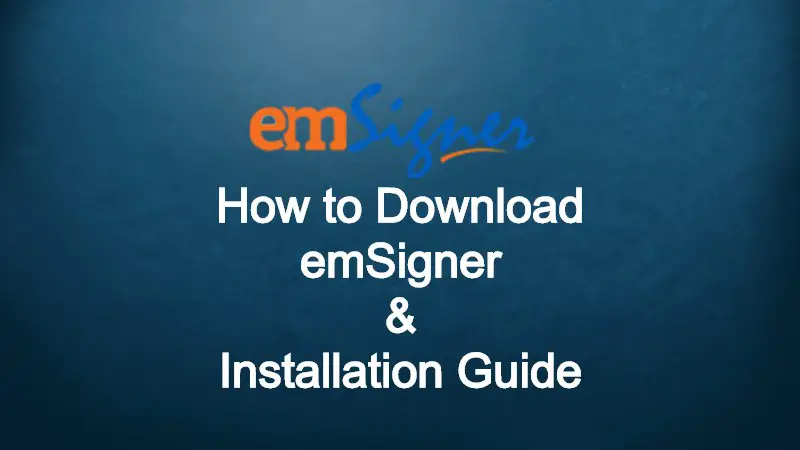 How to Download Emsigner for GST
The following is the step by step procedure to download Emsigner utility for GST:
Visit the GST portal

www.gst.gov.in

Enter Login details

Click on "Register/update DSC" and select "click here" for instructions on installing signer utility link
Select "Click here to download" option for the appropriate one that matches your operating system i.e., for windows, Linux.

Save the file.
System Requirements
Before installing Emsigner it is important to check the system requirements. If the system does not meet the following requirements, error messages will appear. The following are the system requirements.
Windows 32 or 64 Bit OS

Java 1.6 JRE 1.6.0_38+, /java 1.7, Java 1.8 version.

We need to have Windows: Admin access to install the Emsigner component.
Any of the following ports
1585

2095

2568

2868

4587
Mostly the error in emsigner installation is due to incompatible OS or Java.
Installation of Emsigner
After downloading the Emsigner the following steps should be carried out to install the software on your system
Open the downloaded fil

In Installation wizard, click next button.

Right click on the file and select Run it as Administrator.

Click "Install" to install the utility
The installation process is completed.
How to Install Emsigner for MCA
MCA emsigner works only on JAVA. You have to download the latest version of Java on your system.
Follow these steps to install MCA emsigner.
Download the latest MCA emsigner from MCA portal.

Unzip and open the downloaded emsigner file

Select default folder to install & Click Next button

Click Install button and then click Finish button.

Right-click and select Run as administrator.
The system requirements are same as the requirements of GST as mentioned above.
Emsigner for Traces
The emsigner web socket is available on the Traces websites under download section.
Pre-requisite for installing emsigner
JRE 7 or above version 32 bit in your machine.

Internet connectivity (without any proxy).

Admin rights on the machine.
Steps to Install Emsigner for Traces
Login to Traces website by entering User ID, Password, TAN.
Under "Download" tab click on "Requested downloads"
Click on "Click here to download" the utility.
Click on "Traces Websigner Setup V2.0" to download emsigner setup file.
Unzip the downloaded file and select "Run" to start installation.
Complete the process step by step by clicking "Next" and Click "Finish" button.
Go to Start Menu and click on Emsigner to start the services.
Emsigner is flexible and easy to use electronic signature platform.
Ensure that web signer setup is installed and service is running on your system and also ensure that there are no proxies enabled on our browser while doing DSC activities.
eMudhra launches emSigner app to quick and secure digital signature on a document in legally for sales quotations, proposals contracts and invoices generated within salesforce. It helpful for professional people to reduce the use of physical paper in their organization by facilitating digitally signed documents.