How to Check PF Balance: EPFO stands for Employees Provident Fund, Are you an employee working in an organization? Then, it is important to check your EPF (employee Provident Fund) balance from time to time to know how much you have managed to save in your account. There are various ways to check your PF Balance online anywhere, anytime. Here is the step by step guide to check your employee provident fund (PF) balance via SMS, by giving a missed call, via EPFO app and EPFO website.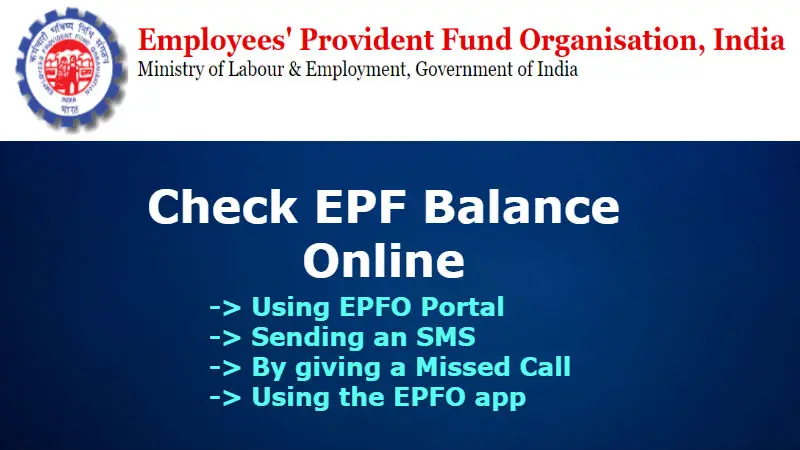 How to Check EPF Balance?
You can check the "EPF balance" anytime from the comfort of your home or even office using any one of these four options – EPFO App/Umang App, SMS, by just giving a missed call or EPFO portal.
Using EPFO Portal

Sending an SMS

By giving a missed call

By using the EPFO app
Check your EPF balance using EPFO online portal
You can check your EPF balance online anytime, make sure that you have activated your UAN and have registered on the UAN Member Portal
Open official EPFO Website – epfindia.gov.in
Go to ->" Our Services"-> click on "For Employees"
Under Services click on 'Member Passbook'. You can even visit the direct Member Passbook page clicking on this link – https://passbook.epfindia.gov.in/MemberPassBook/Login.jsp)
Sign in EPF Passbook with your UNA (Universal Account Number) and "Password".

Select your 'Member ID' (linked with all your UAN accounts), then click on "View Passbook"

The EPF passbook will appear on the screen.
Checking EPF Balance through Umang App
EPFO provides a mobile app called 'Umang'. On this government app, you can check the balance and download the passbook.
Download 'Umang' app from the Google play store.

After App Installation Successful, Open the app and select "EPFO".

Click on the 'Employee Centric Services' option.

Click on 'View Passbook'.

Enter your "UAN" and then click on "Get OTP". It will be sent to a registered mobile number with UAN.

Enter the OTP and click on 'Signin'.

Select the 'Member ID'. Your EPF Passbook along with your EPF balance will be displayed on the screen.
Checking EPF balance through an SMS
The members of EPFO check your EPF balance just by sending an SMS to 7738299899.
The message format of the SMS should be – "EPFOHO UA NumberENG". For Example EPFOHO 098765432100ENG. You can send your preferred language. If your preferred language is Hindi then (EPFOHO 012345678900HIN)
EPFO offers its SMS facility in the following languages:
English

Hindi

Gujarati

Punjabi

Marathi

Kannada

Malayalam

Tamil

Telugu

Bengali
Note: This service can be available only for those who are completed eKYC with UAN. If you want to submit eKYC Documents, link your Bank Account details, Aadhaar number and PAN on EPFO Portal.
Checking EPF balance by giving a missed call
One of the easiest ways to know your EPF Passbook balance is by giving a missed call to this number – 011-22901406.
Also Read:
How to withdraw PF Money after leaving your job?

How to Merge your Multiple EPF accounts?
Conclusion
The contributions are made by employees for EPF are monthly, but the interest on your contributions is calculated on a yearly basis. So, every year on the 1st of April, the amount of PFA is credited to the employee.
The formula to calculate your EPF is opening balance + total monthly contributions + interest on the (old opening balance + contribution).
PF is for retirement savings purpose for salaried employees, we can be withdrawn provident fund (EPF) Amount from the EPFO (Employees' Provident Fund Organization) under certain conditions like children's education, marriage or sickness in the family, purchase of property or repayment of housing loan, resigning from a job, retire from service or even to finance your LIC policy.
Also Read: