Merge PF Accounts: Multiple job changes will result in opening multiple PF accounts by different employers. Now with the introduction Universal Account Number (UAN) it is very easy to merge all the EPF accounts which were opened by a different employer. All the employees will be allotted by a UAN which will be specified in his salary slip.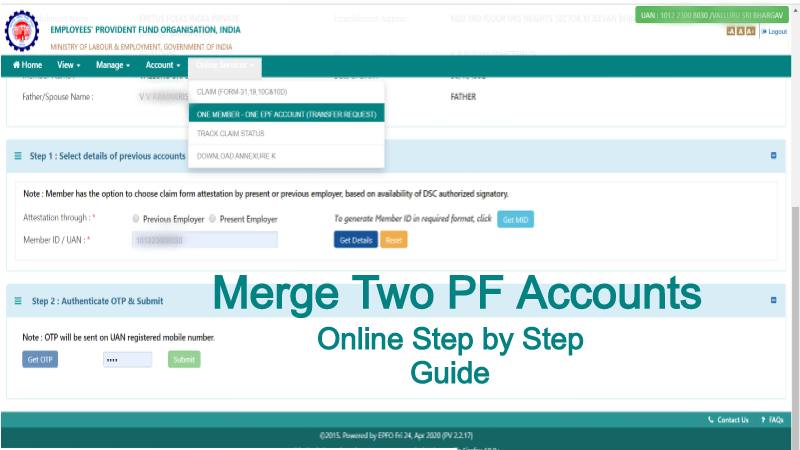 Steps to Merge Multiple EPF Accounts
Now the problem of having 2 or more PF accounts is very common. But it is possible to merge EPF accounts on the EPFO website.
The following are the steps to merge the EPF accounts online.
Login to EPF Portal by using your UAN number and Password
After login, click on "One Member – One EPF Account (TRANSFER REQUEST)" under Online Services Category

On Display Screen Verify your personal information and PF account for present employment

You have the option of choosing either your "Previous Employer" or "Present employer" for attesting the claim form based on the availability of authorized signatory holding DSC. My Preference is to choose Present Employer, enter your OLD PF Account Number.
And then click on "Get Details", your previous PF account details would appear. Just Verify those details
Go to Step 2 Column Click on "Get OTP", One Time Password (OTP) will be sent to your registered mobile number.
Then, Enter the OTP and click on "Submit"
The request for PF Account merge successfully submitted. Here transfer claim status will appear there you can Download "Form 13" for future reference. The Form including PF number from both previous and current employer details.
Sign on a physical copy of Form 13 and submit to the selected employer within a period of 10 days.
The members should have the KYC details updated on website to use all the benefits and services of this website. The account merging activity is available after 3 days on the activation of UAN.
This new process is easier to merge two or more EPF accounts, so you can consolidate multiple PF accounts into one single account for each EPFO member. PF is an ideal savings option for retirement fund- and to make the best use of this investment instrument, individuals are advised to transfer the PF balance, instead of withdrawing.
Also Read: