In this article, you can find "Salary Reduction Letter Format", you can also download. If an employee is not succeeding in his position of employment, then it is time for a pay cut or Salary Reduction Letter. Reduction of employee's salary is not an easy decision to make unless it is very necessary. If employment is not protected by an employment contract, your employer can reduce salary at any time and need to inform in the Salary Reduction Letter to their Employees.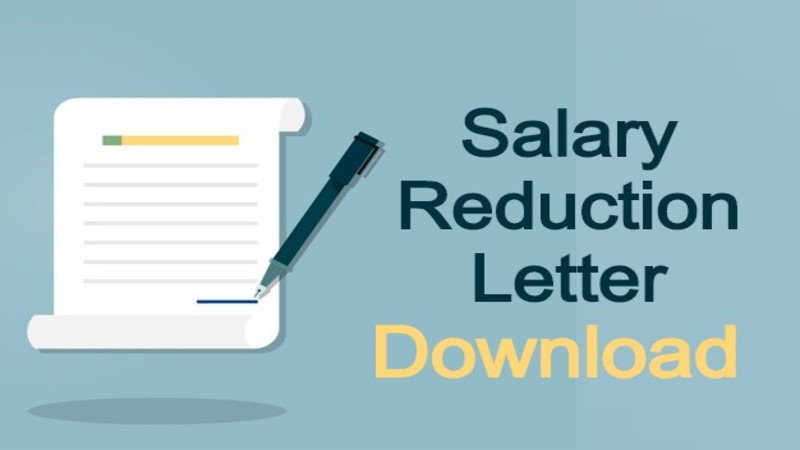 What is Salary Reduction?
A Salary Reduction or Pay Cut is a reduction in an employee's salary i.e., the employer can reduce an employee's salary amount for several reasons. Salary Reduction and Pay Cuts are often made to reduce layoffs to save the resource of the company during a difficult economic period.
An employee's salary may be reduced because of the decrease in sales or poor employee performance which will be mentioned in the Salary Reduction Letter to Employee.  This is a type of employer-sponsored retirement savings plan. A Salary Reduction plan allows you, as an employee, to contribute some of your current income to a retirement account in your name.
Download Salary Reduction Letter Samples
The Salary Reduction Letter Samples are attached below.
Employee Salary Reduction Letter Formats
| | |
| --- | --- |
| Formats | Links |
| Download Salary Reduction Letter Format | Download |
| Download Sample Salary Reduction Letter in Word | Download |
| Download Employee Salary Reduction Letter | Download |
How to Prepare Salary Reduction Letter
We can create our own customized version of Salary Reduction Format using the Human Resources Contract Pack.
Get the Contract pack of the Employees from the Human Resources Department.

Once we got the Contract pack we will get all the content to draft the formal declaration.

Customize the Business Contract template document for the Salary Reduction Format as per your own information.
Salary Reduction Letter to Employee
[Date]
[Employee name, Job title]
[Address]
Re: Notice of Salary Reduction
           Dear [Employee Name],
                         In accordance with [section/Article; Policy/Contract], this is the notice by the [Company name] that, [effective start date] your salary will be reduced from old salary to new salary.
                         This notice of intent to take a corrective salary decrease is due to [insert Reason for salary Reduction]. You have the right to respond to this notice of intent to take corrective decrease in salary within [Specified Date]. If you have any questions, please contact the Human Resources manager.
Yours Sincerely
[Name of Supervisor].
Key Points to mention in Format
The key points to be mentioned in Salary Reduction Letter include:
Date

Employee's Name

Reason for Salary Reduction

Effective date from which Salary is Reduced
Salary Reduction due to various reasons
As we mentioned above, Salary Reduction is made to save the resources of the organization during difficult economic periods. But the government has asked the public and private establishment employers not to reduce the salaries or lay-off employees during the current pandemic situation.
As we have seen Salary can be reduced above mentioned reasons. But the Basic Salary of any employee cannot be reduced under any circumstances since all the Statutory Deductions like PF, Gratuity is based on it. If an employer cuts an employee's salary without telling him, it is considered a breach of contract. Pay cuts are legal as long as they are done with notice of their employee.